.
stay tuned for our next event!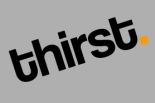 ThirstDC aims to create and foster thought leaders both on and off stage by crafting an informal environment where world renowned experts socialize, interact with, and inspire attendees in a lounge atmosphere.
---
Seems like people dig what we're doing. Nerding! Learning! Flirting!