​
SC
IE
NT
HE
SI
A
Come to a thirst. art exhibit wine & cheese - which means there's no cheese.
---
AAAS (Amer. Assoc. for the Advancement of Science) has a new art exhibit called

"Beauty and the Brain Revealed"

which builds on a 2010 collaboration between the Zanvyl Krieger Mind/Brain Institute at the Johns Hopkins University and the Walters Art Museum to examine how the brain perceives abstract sculpture.

This is über-cool in it's own right, but here at thirst., we aren't content to leave things alone.

We've got a popup event for you, which we encourage you to pop into at some point!

Come check out the exhibit while DJ Autorock spins ambient earfuls & mingle with other thirsters, and keep an eye (and an ear) out for some of the thirst. surprises you've come to expect.

Oh, and wine, drink wine.
Wednesday, November 13th
1200 New York Ave, NW
Doors @ 6:30pm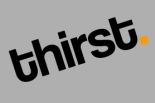 ThirstDC aims to create and foster thought leaders both on and off stage by crafting an informal environment where world renowned experts socialize, interact with, and inspire attendees in a lounge atmosphere.
---
Seems like people dig what we're doing. Nerding! Learning! Flirting!